Teacher Appreciation Video
Past and present HPISD students thank their arts teachers.
HP Arts distributed $50,000 in funds during the 2019-2020 School Year!
Thank you to our generous donors and sponsors for supporting arts in education this year. Your gifts helped us fund programs across all seven HPISD campuses, impacting every child in the district.
For a summary of all 2019-2020 funding, please click 
HERE
.
Thank You to Third-Year Board Members of HP Arts
Being a volunteer for an organization like HP Arts takes a lot of work. Compensation comes from enriching our children's education and the opportunity to work and collaborate with like-minded parents. 
In 2020, we had nine Board members who completed their three-year commitment. A sincere "thank you" to Melissa Allen, Ting Cai, Aimee Cali, Jill Dalton, Megan Lembcke, Kelli Miller, Georgianna Moreland, Kristen Pratt, Mikee Smythe, and Tammy Testa for their years of service!  We look forward to their continued support of the arts throughout HPISD.
Our board also had several members roll-off due to relocations and work commitments. Thanks to Amy Ramos, Gabriella Ott, Shannon Sonnier, Victoria Steindorf, Shari Handler, and Tassio Caralho for their time and effort.
Fine Arts Teacher of the Year Award
Heather Smith
Art, Highland Park High School
Ms. Smith makes all students feel like "artists." She supports her students with their artistic endeavors and appreciates each as individuals. She provides a safe space for creating and for just being themselves. This is Ms. Smith's fifth year teaching at HPHS, and she teaches Standard Art I, PAP Art II Ceramics, PAP Art III Ceramics, and AP 3-D Art & Design. HP Arts is delighted to honor Ms. Smith's innovation in the classroom and drive to enrich her students' lives with the inaugural HP Arts Fine Arts Teacher of the Year Award. This award was created to recognize our wonderful fine arts faculty and highlight a teacher each year who uses creativity and innovation in the classroom, guides all students regardless of abilities to achieve excellence, and demonstrates outstanding leadership and excellence in teaching. Award winners are honored with an engraved nameplate on a seat in the HPHS Palmer Auditorium, a monetary gift of $500, and recognition at an HP Arts board meeting.
Arts in Education Teacher Award
Samuel Standridge
English, Highland Park High School
In his third year at HPHS, Mr. Standridge teaches English II and English II Pre-AP TAG. His sophomore-year film project wove fine arts into his English literature curriculum. Students were pushed to not only explore the story meanings of two films but also critique the visual elements of scenes, sequence, and music. Students also had the option to write, direct, and shoot their own short films. Mr. Standridge encouraged students to look beyond literature to discover the art of cinema and to study the genre of the visual arts in a new way, making him worthy of the Arts in Education Teacher Award. The Arts in Education Teacher Award is presented to a teacher outside of fine arts who enriches the educational experience through incorporation of the arts in the daily classroom either by including specific events or by weaving the arts into their curriculum. Award winners are honored with an engraved nameplate on a seat in the HPHS Palmer Auditorium, a monetary gift of $500, and recognition at an HP Arts board meeting.
Sharon Pittman
Volunteer, University Park Elementary
Mrs. Pittman is a HPISD grandmother and has volunteered her time and talents exclusively to the UP Art Room every day for over a year. She tirelessly helps Mrs. Torres with any and all projects, lessons, and tasks. Mrs. Pittman has been an invaluable volunteer for the UP Art Program and well deserving recipient of the Arts Advocate Award. This award is given each year to a patron of HP Arts who has had multiple years of involvement in the arts within HPISD and stands out as a true advocate of the arts. Current HP Arts board members and current presidents of an HPISD fine arts booster club are not eligible. HP Arts Advocates are honored with an engraved nameplate on a seat in the HPHS Palmer Auditorium as well as recognition at an HP Arts board meeting.
HP Arts Linda Raya Scholarships
Congratulations to this year's Linda Raya Scholarship winner Julia Cary! Each year HP Arts awards the HP Arts Linda Raya Scholarship to students who have demonstrated a commitment to the same fine art discipline all four years of high school and plan to pursue a fine art major in college.
Julia, a HPHS art student, plans to study art and architecture in college. She will be attending Jan Matejko Academy of Fine Arts in Poland. We wish Julia all the best and look forward to following her journey!
2019-2020
HP Arts Appreciates Teachers and Administrators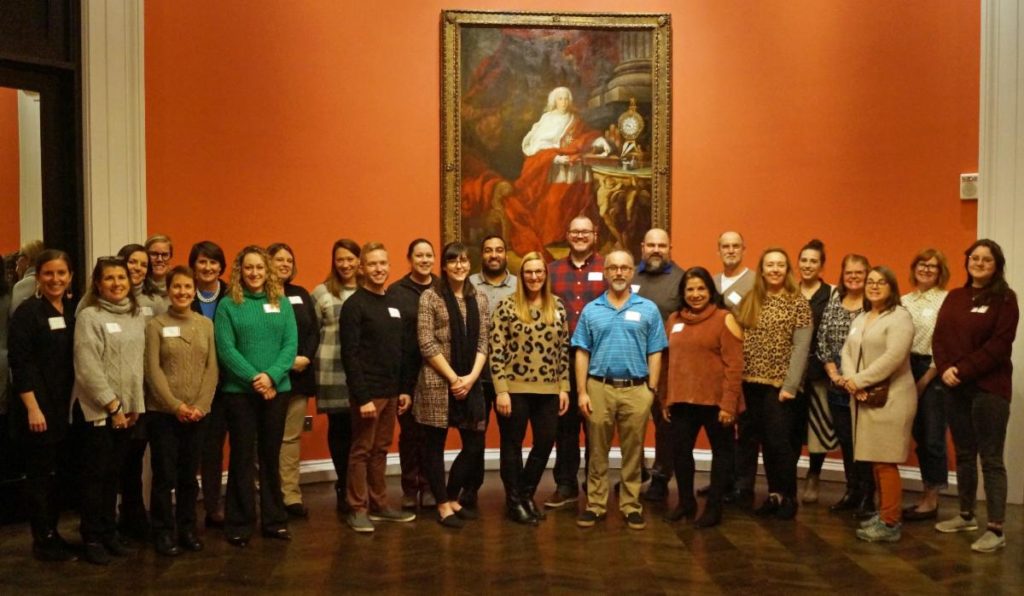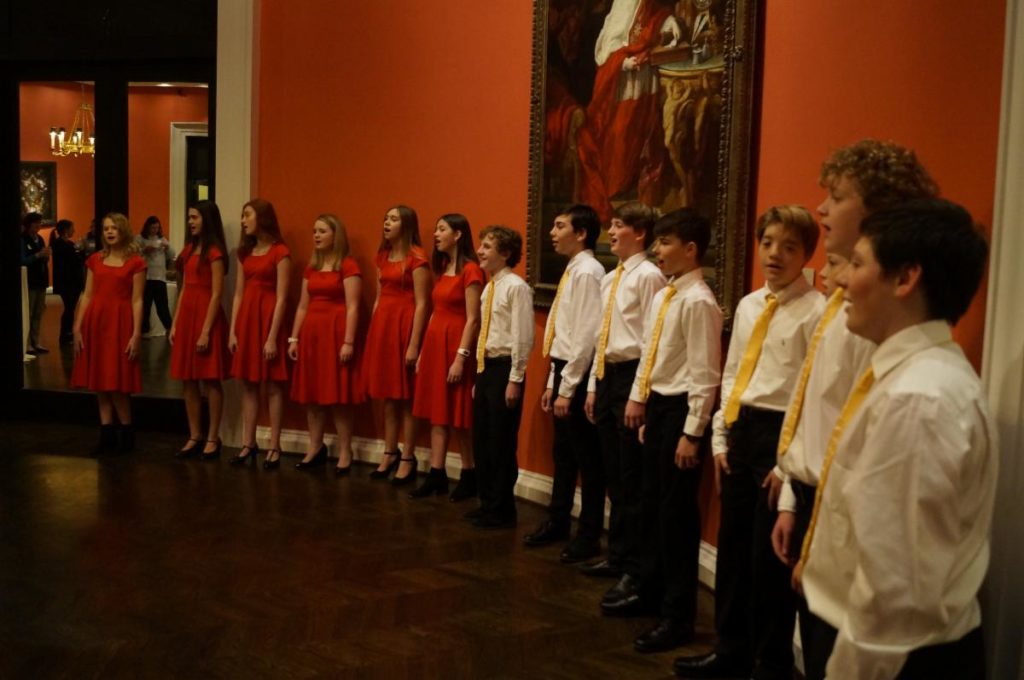 On January 22nd 2020, the HPISD community gathered at the Meadows Museum at SMU for HP Arts' annual Teacher Appreciation Reception.  The event honored the fine arts faculty from all seven HPISD campuses, as well as non-fine arts teachers who have used funding from HP Arts to promote arts enrichment and arts education in their classrooms.  Highlights of the event included HPHS and HPMS student performances and aHK-12 works of art.  HP Arts would like to thank the Meadows Museum for graciously donating the venue, as well as Preston Center Dance and Brook Mays Music Company for sponsoring the event. 
2019-2020
Funding Spotlight: The Julius Quartet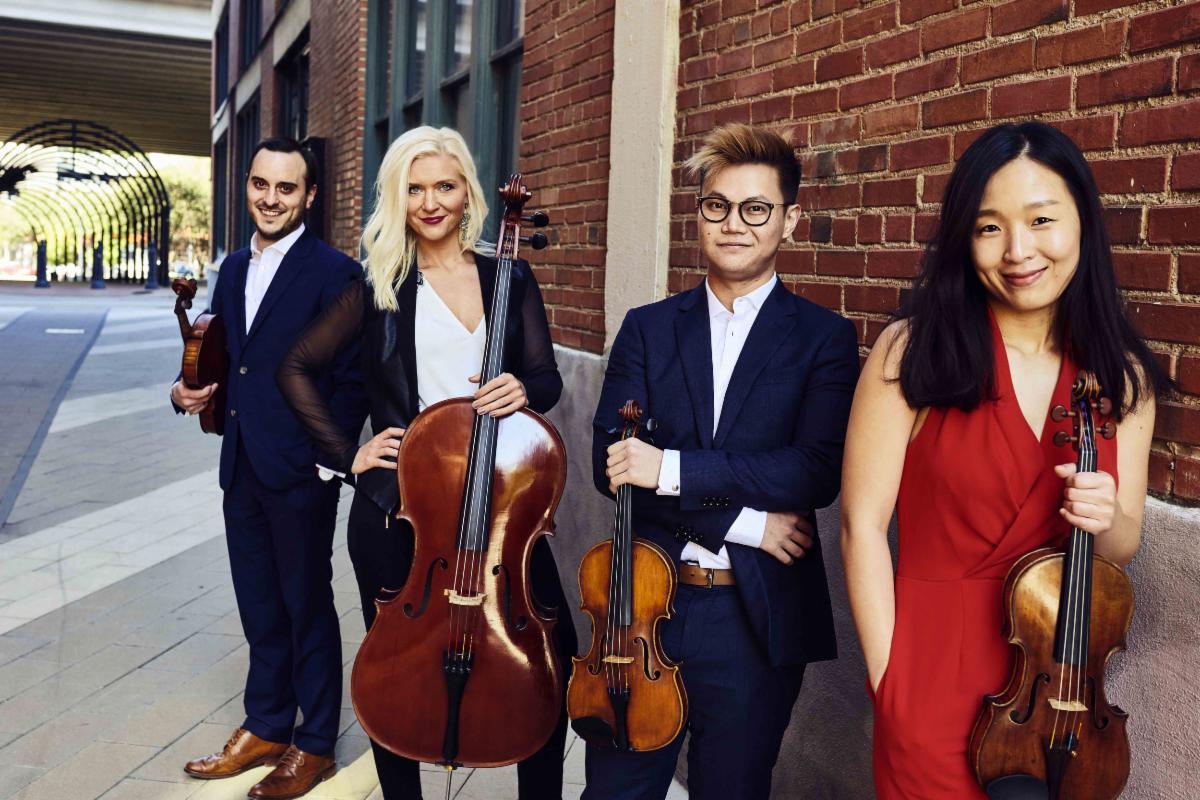 The Julius Quartet in residency at SMU came to perform and speak about chamber music to all three of the HPHS orchestras in preparation for Solo/Ensemble. The quartet talked about rehearsing in a small peer group and how to communicate and collaborate when ideas and opinions may differ. Their interactive presentation focused on critical listening skills when playing in small groups when there might be only one or two people playing each part, said Tara Cesario, HPHS Orchestra Director. 
HP Arts collaborated with the HPHS Orchestra Booster Club to fund the performance and chamber music presentation on Wednesday, October 30, 2019. 
2019-2020
Moody Advanced Professional Studies Center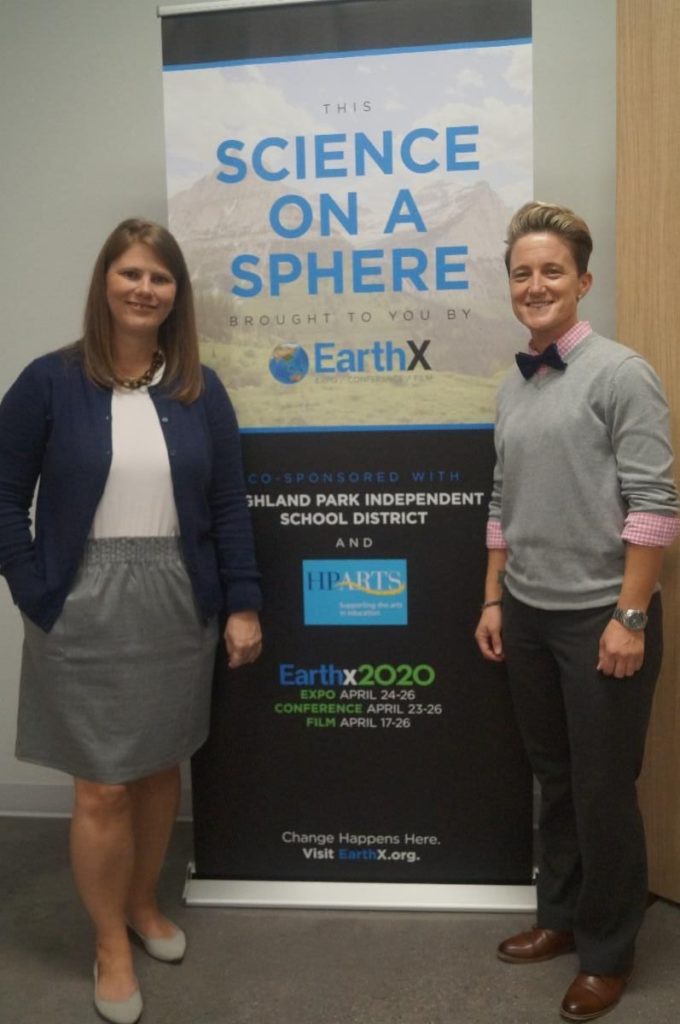 The Grand Opening and Dedication of the Moody Advanced Professional Studies Center at HPHS was held on Monday, October 28, 2019. HP Arts helped to fund the installation and eventual January dismantling of the OmniGlobe. The globe will be utilized across all disciplines, including the arts. 
2019-2020
Funding Spotlight: Elementary Schools Experience Djembe Drumming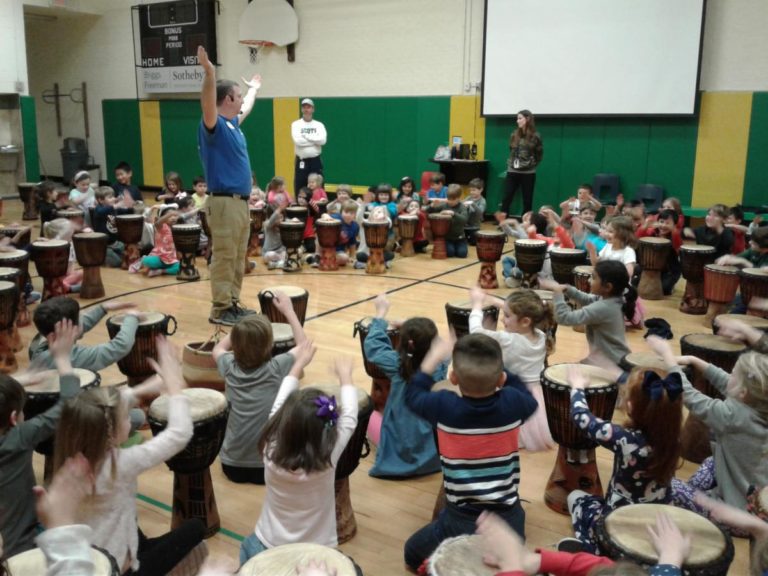 David Cox, owner of Rhythm Path Drumming, presented an interactive drumming workshop to kindergartners, 1st graders, and 2nd graders at the four elementary schools.  Students were taught proper drumming techniques, learned rhythms from the West African culture, and practiced leading a drum circle.  Mr. Cox also showed pictures from his travels to the African continent, including artisans creating the Djembe drums used by the children during his presentation.  The students enjoyed this HP Arts-funded program. 
2019-2020
Highlander Band is Honored for Winning State Silver Medal
The HPISD Board of Trustees honored the Highlander 
Band
 at its December meeting for bringing home the silver medal from the UIL 5A 
State
 Marching 
Band
 Contest in San Antonio in November.  This was the 
band
's highest finish ever.
At 147 members, the Highlander 
Band
 is the fourth-smallest 
band
 to advance to 
state 
and the second-smallest 
band
 to advance to the finals. 
2019-2020
Funding Spotlight: Elementary School Silkscreen Printing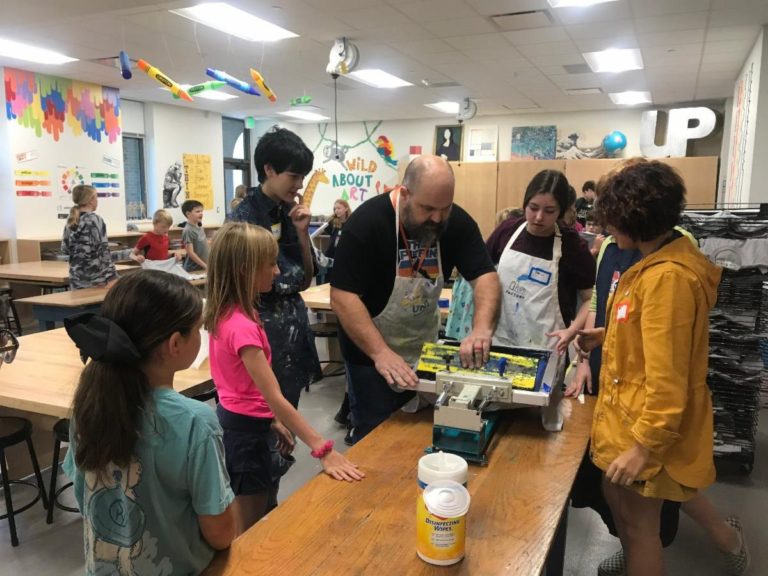 HP Arts funded the Screen Printing project, a collaboration between MIS and the elementary schools to expose students to the art of graphic design, screen printing, and the middle school art program. James Jenkins and students from his middle school art class taught the 4th graders at all elementary schools how to silkscreen. Each student had the opportunity to print his/her own shirt with a design created by one of his/her peers.  Below are pictures of UP Elementary students participating in the project.  UP 4th graders drew their ideas for a creative t-shirt design and one winning design by Pearl Wright was selected.  HP Arts supported this program for all 4 elementary schools and provided the t-shirts, printing ink, and other necessary supplies for every student to print their own t-shirt.  
2019-2020
Funding Spotlight: Sixth Graders Learn Latin Dance from Ernesto Plazola
Ernesto Plazola  is with United Dance Academy and has lived in both Brazil and Venezuela. He taught the kids samba, salsa and (the most fun) the walk (with samba and turns) that performers do during the parade at Carnival.  Ernesto spent one day with each of the houses, working with every 6th grader over the course of a month during regular social studies class.
2019-2020
Phantom of the Opera
The HPHS drama department presented five performances of 
Phantom

 of the 

Opera
 over two weekends in September, and shared some interesting facts about the production:
Rehearsals began August 5, and the cast rehearsed for a total of 60 hours.
52 students made up the cast and crew.
Students were required to know their lines prior to the start of rehearsals.
The 17-member orchestra was mostly comprised of HPHS orchestra and band students
Choir Director Natalie Walker and the orchestra sat atop the stage above the cast and crew, and produced an outstanding sound.
2019-2020
"Take A Seat" Funds at Work
HP Arts is excited to announce that Take-A-Seat's funds were used over the summer of 2020 to purchase and install a new and much needed sound system for the HPHS auditorium.
Tyler Perring, HPHS Technical Director, is delighted with the new state-of-the art system. Mr. Perring stated, "The purchase of this new system brings advanced theatre sound technology into the building making sure our performers have the best possible equipment to work with and giving our technicians the opportunity to train on equipment they will see in the future. The auditorium is one of the most used spaces in the district and this new equipment will upgrade everyone who uses the auditorium's experience."
Thank you for your support of the "Take A Seat" fund. We look forward to continuing to invest in the HPHS Palmer Auditorium with your help!
2018-2019
Clinicians and Cellos
A clinician is a specialist who listens to performers and helps to improve their technique. They offer new insights and perspective on rehearsal practices, enhancing techniques, polishing performances, and refining repertoires. Clinicians also act as mentors to the music directors, answering questions and helping them to coax the best possible performance out of their students.
HP Arts recognizes the value of giving our students the opportunity to work with these professional musicians and is proud to be a part of enriching our band, orchestra and choir programs by providing the funding for these clinicians at MIS/HPMS and HPHS year after year.
HP Arts funded orchestra clinician, Brian Coatney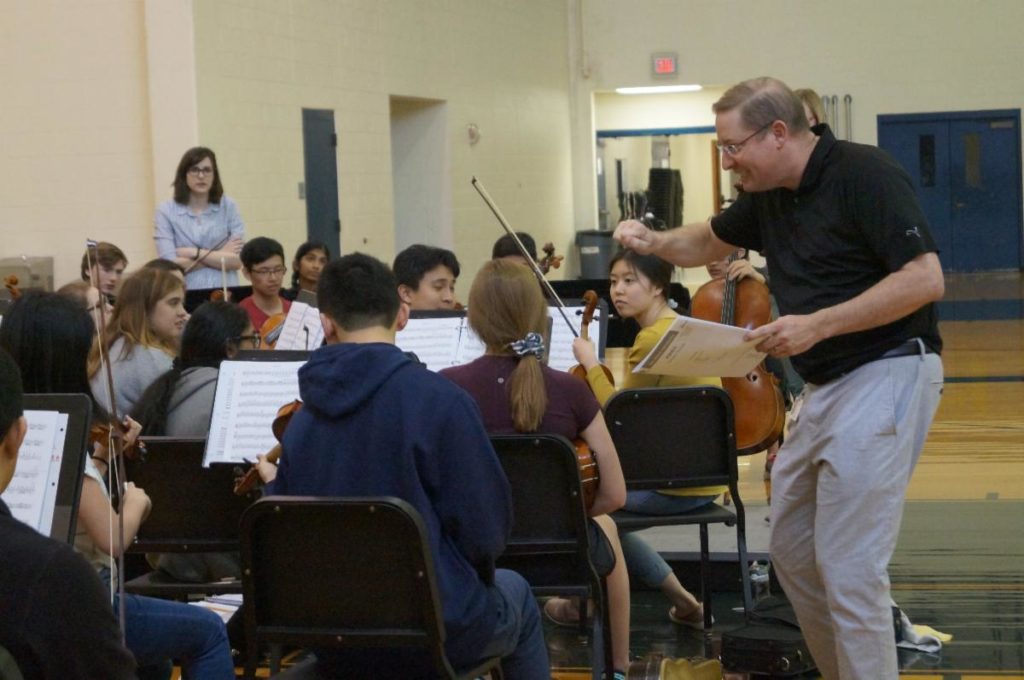 HP Arts funded full orchestra clinician, Jeremy Kondrat.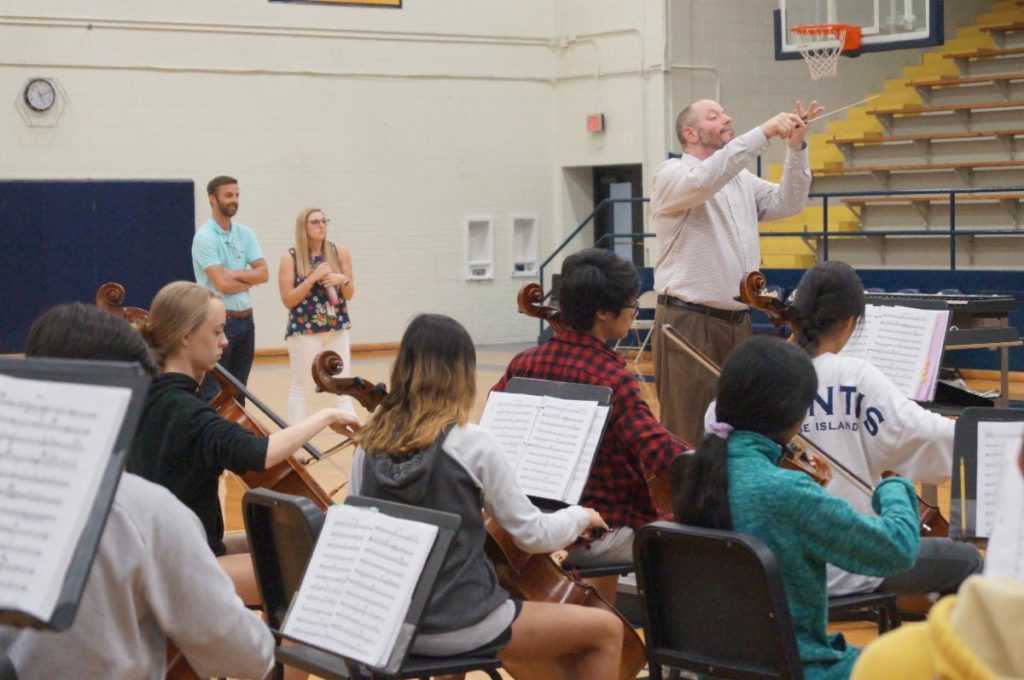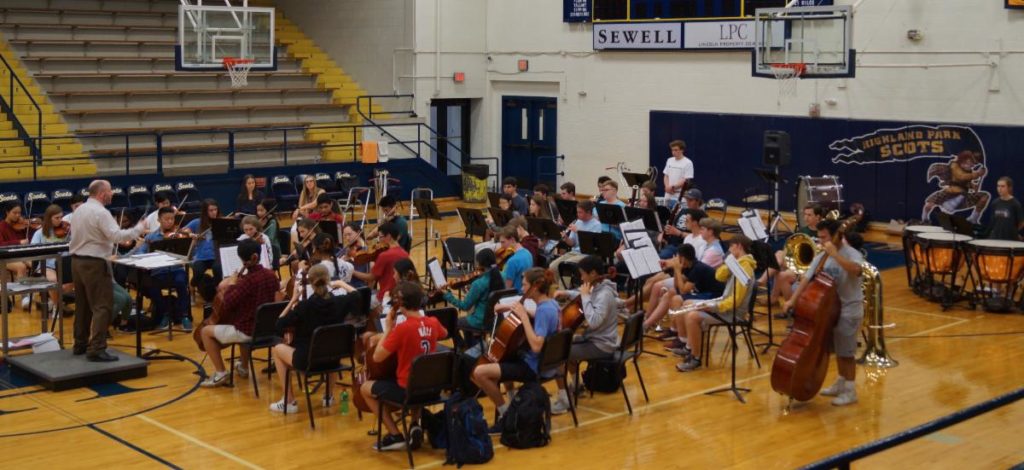 HP Arts funded the purchase of a cello for the HPHS orchestra.
2018-2019
"Take A Seat" Funds at Work
In November 2018, we announced plans to purchase a new, state-of-the-art projection system, allowing for modern and versatile backdrops on the stage in the HPHS auditorium. The new system is now in place and made its debut on March 25 in the HPHS theatre 2019 UIL One-Act Play, The Persecution and Assassination of Jean-Paul Marat as Performed by the Inmates of the Asylum of Charenton Under the Direction of the Marquis de Sade by Peter Weiss.
HP Arts congratulates Theater Director Christine Hathcock along with the entire cast and crew on advancing through District and Bi-District! HP Arts is proud to have helped Mrs. Hathcock achieve her vision for the production. With the new projector, they were able to do what would normally take four separate projectors. According to Mrs. Hathcock, "Our uses for this projector are limitless!".
Thank you for your support of the "Take A Seat" fund. We look forward to continuing to invest in the HPHS Palmer Auditorium with your help!
2018-2019
Nathan Hale Visits MIS/HPMS
On February 5, 2019, best-selling author and Raider favorite Nathan Hale visited MIS/HPMS, speaking to 5th and 7th grade students. The students were captivated by Mr. Hale's presentation where he told a true story about the explorations of Lewis and Clark while illustrating the adventure on his iPad projected on the screen.
During his day on campus, Mr. Hale hosted a lunch with 7th and 8th grade students during which he answered questions about his books, writing, illustrating, and publishing. He also led a writing workshop for 5th and 6th graders. The students who attended participated in imaginative pre-writing activities and then created original comics. Throughout the day Mr. Hale signed books, adding a special illustration in each.
A gifted illustrator and storyteller, Nathan Hale inspired readers, writers, and artists at MIS/HPMS. HP Arts is proud to have provided funding for this unforgettable experience.
2018-2019
Highland Park Literary Festival
The 23rd annual Highland Park Literary Festival took place in February. Seeking to inspire and encourage students, teachers, and the community to celebrate language in all of its forms. HP LitFest included an assembly with the keynote speaker funded by La Fiesta de la Seis Banderas, a community event, and more than 100 small group workshops that showcased and provided access to professionals who offer guidance and inspiration.
HP LitFest is the recipient of the largest HP Arts programs funding for 2018-2019, co-sponsoring the workshops with HPHS PTA. Workshops available to HPHS students were journalism, poetry, graphic novels, songwriting, nonfiction writing, fiction writing, photojournalism, screenplay direction and writing, and on being an editorial cartoonist/illustrator. New for this year, several of the workshop presenters also presented to 8th  grade students at HPMS thanks to funding provided by PC-TAG.
HP LitFest also encompassed student and parent book clubs, Flick Fest for LitFest, Open Mic Night and a Student Writing Contest. An Awards Breakfast will be held April 25 to recognize the winners of the Student Writing Contest and Open Mic Night.
HP LitFest is made possible with the cooperation of the HPHS English department faculty, and by generous donations from La Fiesta de las Seis Banderas, HPHS PTA, HPISD families, PC-TAG, and HP Arts.
2018-2019
Funding Spotlight: Supporting STEAM Initiatives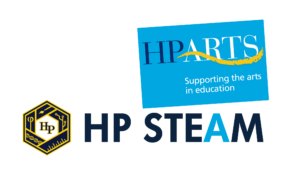 STEAM is an educational curriculum that incorporates the core of STEM (Science, Technology, Engineering, and Math), but adds Art to the mix. Its about applying creative thinking to STEM projects and sparking imaginations, incorporating artistic and design-related skills into the learning process.
HPISD is in the second year of a five-year 5.8 million dollar grant from the Moody Foundation that supports teacher professional development, providing enhanced technology, and funding staff to facilitate the design of relevant, engaging, integrated learning opportunities. With the rapidly developing program, numerous initiatives are already underway. In fact, you can see many of them in the HPISD STEAM Newsletters (click
here
).
HP Arts proudly supports teacher funding requests related to STEAM initiatives in an effort to support the continued expansion of arts education beyond the walls of the fine arts classroom and into every part of the curriculum.
Google Expeditions Kit for LOTE
The Languages Other Than English (LOTE) department at HPISD will soon be getting a new Google Expeditions Kit funded in part by HP Arts. Expeditions is Google's app designed to expand what's possible in the classroom with virtual reality (VR) and augmented reality (AR). VR allows you to explore the world virtually with over 900 expeditions from Mount Everest to the Louvre, while AR brings abstract concepts to life with over 100 expeditions such as swirling tornados and buzzing beehives that can all be brought into the classroom. The Google Expeditions Kit purchased includes teacher and student devices, VR viewers, chargers and a router to allow up to 30 students to participate at a time.
In the words of Highland Park High School LOTE Department Chair, Señora Moises,  "Talking about culture and practices in a book or video can be interesting, but learning about them AT Macchu Pichu, AT the Guggenheim Museum of Art, or IN la Sagrada Familia is indelible.  We could transport our students to any place!"
2018-2019
HP Arts Appreciates Teachers and Administrators
HP Arts hosted its annual Teacher Appreciation event at the UP Library on January 29 for our amazing Fine Arts teachers and administrators in appreciation of everything they do. Members of La Fiesta de las Seis Banderas joined HP Arts board members in the celebratory evening. Tasty bites and refreshments were served and entertainment was provided by our very own Highlander Strings Quartet and Park Version. The evening was enjoyed by all!
2018-2019
Take-a-Seat Funds at Work
The Take-a-Seat fund has yielded great results over the years and HP Arts has been actively looking for ways the funds can be used to improve the HPHS auditorium. Your support has allowed us to invest in many improvements, from wireless body microphones to stage equipment upgrades to current plans for a new, state of the art projection system, allowing for modern and versatile backdrops on the stage. The HPHS auditorium is moving forward, all thanks to your support through Take-a-Seat!
2018-2019
Funding Spotlight: Music Clinicians
Clinicians: Who they are and why they are so valuable
A clinician is a specialist who listens to performers and helps to improve their technique. They offer new insights and perspective on rehearsal practices, enhancing techniques, polishing performances, and refining repertoires. Clinicians also act as mentors to the music directors, answering questions and helping them to coax the best possible performance out of their students.
Clinicians provide a wealth of knowledge for both our students and directors. We are fortunate to have some of the most sought after clinicians and mentors working with our bands in Highland Park. They are a continual source of information and guidance throughout the year and are truly an invaluable resource to our programs.  Their vast knowledge of the craft and their experience provide us all with new perspectives and ideas that benefit us way beyond the hours they spend in our band halls.
– Lara Whitehouse, MIS/HPMS Band Director
HP Arts recognizes the value of giving our students the opportunity to work with these professional musicians and is proud to be a part of enriching our band, orchestra and choir programs by providing the funding for these clinicians at MIS/HPMS and HPHS year after year.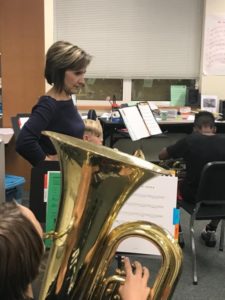 2018-2019
Funding Spotlight: HP Debate Team
HP Arts has funded debate consultant, Collin Quinn, for the Highland Park Debate Team for the last several years. The team, led by HPHS teacher Toby Whisenhunt, has had great success over the years and Mr. Quinn has been an integral part of that success.  
Mr. Quinn works with the team in numerous areas including conducting practice sessions, assisting in argument construction, providing judging, demonstrating techniques, and answering questions over the course of the season. According to Mr. Whisenhunt, Mr. Quinn's assistance is a direct extension of the class in a more intensive and in depth manner – working on high level critical thinking skills, developing next level research skills, honing advocacy skills, and developing speaking and presentation skills.
The debate season is 9 months long, running from September through May, and they typically compete at 12 tournaments each year.  
 Recent Accomplishments:
The team of Ethan Muse and Mark Lam competed at the nationally-acclaimed St. Marks Heart of Texas Invitational and placed 9th overall.  They received a bid for the Tournament of Champions to be held in Kentucky in April.  Ethan was also awarded 5th overall speaker.
The freshman team of Evan Wang and Andrew Lind captured 2nd place in the Novice CX Debate at the Hebron High School tournament November 2-3.  Evan was also recognized as the 10th overall speaker.
 Thank you to both Mr. Whisenhunt and Mr. Quinn for creating an engaging environment that continues to lead to success for their students!
2018-2019
Artist Spotlight: Jack Smith
Blue Print Gallery will host an art reception for Highland Park High School senior, Jack Smith, on Thursday, October 4 from 5:00-7:00pm at 2701 Fairmount Street.
The art exhibition will feature a selection of Jack Smith's paintings and sculptures.  Recognized for his heavy body acrylic canvases with bold colors, Jack has interpreted his subjects and ideas of nature, landscape and objects through abstracts, realism and mixed media.  He has a creative mind with a natural attention to detail.
Jack's artwork will be available to purchase and a portion of his sales will be donated to HP Arts and the Noggin Foundation, a group dedicated to improving educational opportunities for underprivileged students which is a cause close to the hearts of the Smith household.
Jack Smith began drawing an sketching at a very early age, when unlike most young children, his art took recognizable form and color.  His first painting, PENGUIN, earned him the cover page of the Westminster Preschool newsletter at age four.  A natural artist, his understanding of light, color and form continues to evolve and expand as he explores new mediums.
Jack began formal painting study at Zhen Music and Art Institute in Dallas at age ten and continues to learn and experiment inside and outside the classroom.  His teacher, Zhen Wu, is an advocate of young artists and has helped him grow technically while mentoring his talent and spirit.  The Zhen Gallery featured Jack's paintings during the 2014 Spring Show.  Jack has been featured in Park Cities People, Art & Seek, White Rock Weekly, and the Dallas Morning News.
Since 2013, Jack Smith has consistently been selling, commissioning and donating paintings. He is a regular contributor to Children's Medical Center and has donated paintings to benefit the Cattle Barons Ball, Autism Treatment Center, Highland Belles, Dallas Junior Forum, Delete Blood Cancer and the Museum of Biblical Art Education Programs.  Jack's largest installation is at Legacy in the ABN AMRO Bank offices.
Blue Print Gallery, a fine art gallery in Dallas, Texas, represents artists from around the world. The gallery is dedicate dot bringing established, mid-career and emerging artists to Texas.  Blue Print Gallery features a large variety of artwork from contemporary abstract paintings and works on paper to fine art photography and sculptures.
Blue Print Gallery opened on April 5, 2018 and is a sister company of Blue Print, a fine home furnishing boutique.  
www.blueprint-gallery.com.
  @blue_print_store.
2018-2019
HP Arts Supports the Highland Belles
HP Arts is proud to support the award-winning Highland Belles Drill Team through funding designated for choreography and costuming for their contemporary dance to be performed at regional and national competitions.  We look forward to another successful year for the Belles!
La Fiesta de las Seis Banderas Honors Linda Raya in 2018
Our cornerstone benefactor, La Fiesta de las Seis Banderas, honored Linda Raya's 45 years of service to HPISD and our community's fine arts programs with a lovely tribute and the Order of the Flag award at their annual spring tea on June 6, 2018.
2017-2018
DIGITAL SOUND PROCESSORS!
The HPHS AUDITORIUM SOUND just got better! On October 3rd, two new digital sound processors were installed to vastly improve the sound in the auditorium at Highland Park High School. The new sound equipment was funded by HP Arts Take-A-Seat Fund! Mr. Ben Stevens (photo below), New HPHS Theater Teacher and Auditorium Manager explains that a DSP or digital signal processor is used to take analog signals and process them into digital data allowing the digital data to be manipulated.  
Because one of the processors was completely non-functioning and the other was out of date, several of the sound outputs (speakers) did not work at all and the rest put out sub optimal sound. The new DSPs allow all the speakers to work and give us the power to balance the sound digitally for a more pleasing sound. There was a noticeable sound difference for Hamlet which showed November 11th and 12th.  Mr. Stevens used a significant amount of music and sound effects!
Take a Seat Funds raised are used for ongoing improvements in the HPHS auditorium areas.  Each $500 donation goes into the fund and purchases an elegantly engraved brass plaque displayed on the arm of an auditorium chair. Plaques typically honor a child, family member, a favorite teacher or HPISD organization in the HPHS Palmer Auditorium! 
HP Arts recently funded an original composition, entitled Boom Bap, written by Nick Werth for the HP percussion ensemble to play at the Percussive Arts Society International Conference (PASIC) on November 11. Werth is an American percussionist and composer from Portland Oregon. Werth surprised the percussion students by showing up to play with them at their concert on October 30. His deeply-rooted connection to nature serves as his primary inspiration for composing.
The Percussive Arts Society International Convention (PASIC) is the largest and most prestigious percussion contest in the U.S., and the Highlander Band percussion section is one of only three high school ensembles selected to perform. They were chosen by a panel of collegiate professors and professional percussionists based on recordings submitted last spring of their most advanced musical selections. Class of 2017 percussionists, Cameron Coffey, Carson Dugger, and Lauren Ghighi, who were the core leaders in earning this prestigious honor are not pictured below but the Highland Band acknowledges their talent and determination and is grateful for their leadership!
PASIC presents a once-in-a-lifetime showcase concert opportunity for these percussion students. The honor reflects the Highlander Band's growing national reputation and the demanding work of the band's directors and students.
The spectacular HPISD orchestras grades 6th-12th played at the annual Hauntcert at Northpark Mall on Tuesday October 24th! Daisy Murphy pictured below is playing a Lyon and Healy Troubadour Harp jointly funded by HP Arts and HPHS PTA at the end of the 2015-2016 school year. We now have the harp and a harpist!
"The harp has a very distinctive sound that is not found in any other instrument in the orchestra", said MIS/HPMS Head Orchestra Director, Louise Rossi Sklar (zebra costume). The middle school students played Ode to Joy, Au Claire de la Lune, Boil 'Em Cabbage Down, and It's the Blues, Man! at the Hauntcert.
When asked about longevity, Ms. Rossi Sklar said about the harp, "They can last forever!"
The harp was purchased to be a shared instrument by both MIS/HPMS and HPHS. The Troubadour harp is the perfect instrument for both beginning and experienced harpists with five complete octaves. HPISD is one of three school districts known to have harp programs in the surrounding Dallas area.
Facts about the Harp:
It is one of the oldest instruments in the world dating back to around 3500 B.C.
Every harp has three different string colors: red are C strings, black (sometimes blue) are F strings and the remaining strings are white or transparent.
A modern harpist plays using only the first four fingers on each hand. They pluck the strings near the middle of the harp using the pads of their fingers. Irish harpists use their fingernails to pluck the wire strings.
The rapid succession of musical notes played on a harp is called arpeggio and the sweeping motion of the hands across the strings is termed glissando.
HP Arts is excited to announce that Kid Art presented HP Arts with a $5,819 donation to help fund visual arts programs in HPISD. HP Arts is grateful for Kid Art's generous sponsorship, designed last spring as a percentage of summer class and camp tuitions.
Stay tuned for announcements of specific programs supported by the gift from Kid Art in the coming months. Find out more about Kid Art classes and workshops at www.kidartdallas.com. Thank you to Kid Art!
Pictured below are 2017-18 HP Arts board member Molly Pieroni, Kid Art owner Tori Webb Pendergrass, and HP Arts board members Dana Manley and Steve Gruber.
"But guys, don't really stab your partner!" exclaimed instructor Jeff Colangelo during his stage combat workshop in the HPHS Advanced Theater Class this October.
The beginning theater class had unarmed stage combat lessons where they were taught to punch, hair pull, sell a punch, dodge, block and choke! They reviewed these techniques along with choreography to get a tactile learning experience.
The intermediate theater classes worked on the same techniques as the beginner level class but had additional emphasis on building choreography.
The advanced theater class reviewed the techniques from the intermediate class and were instructed on sword fighting using dowel rods all three days. Sword fighting instruction included foot work, blocks, attacks and how to blend it all together to make a believable piece of choreography.
Mr. Ben Stevens, first year HPHS Theater Teacher and HPHS Auditorium Manager will have several of these stage combat techniques incorporated in the upcoming production of Hamlet. Hamlet is showing at HPHS on Saturday, November 11 @ 7pm and Sunday, November 12 @ 2 pm!
The HPHS band theme this year is 'I Do'! This fabulous and creative group plays and dances to numerous wedding songs related to this theme. The two Color guard girls in their bright yellow flowing bridesmaids dresses are forming a heart with their arms. Their songs include the very popular Wedding March, Marriage of Figaro, Gabriel's Oboe, and The Bartered Bride. Last Year, HP Arts funded a new PA system for marching practice and provided funds for a percussion marching instructor as well as sectional coaches. Photos by Stephen Luk
2017-2018
La Fiesta presents donation check to HP Arts
La Fiesta de la Seis Banderas presented HP Arts with a $60,000 donation to fund HPISD arts programs, technology and new lighting in the MIS/HPMS auditorium. HP Arts is grateful for La Fiesta's continued partnership and support as it begins its 31st year of service in HPISD.